Better for People
& the Planet.
We're pioneering a new way to produce environmentally-friendly products
Better for the planet and your wallet
Neuclo is a UK brand of affordable consumer electronics. Our passion for sustainable design and technology brought our vision and products to life. We believe in quality, care, and creating sustainable products that everyone can afford. Neuclo products are good for our planet and great on your wallet as well!
SUSTAINABLE DESIGN & TECHNOLOGY
Committing to a cleaner, sustainable world
At a time when e-waste is the fastest growing waste in the world, Neuclo's core mission is to create great products that you can enjoy for years to come and to help save our environment. We're pioneering a new way to produce environmentally-friendly products with modular designs, eco-friendly components, and fair-trade practices whilst minimizing the harm to our environment.
CAREERS
Career powered by the people
Our people are our greatest asset – we say it often and with good reason. It is only with the determination and dedication of our people that we can serve our customers and contribute to the broader public.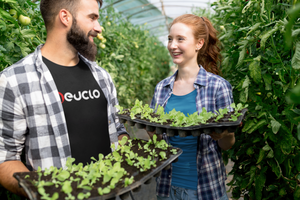 Why Neuclo is better
We plant a tree for every device sold
Not only are you buying great products, but you are also replenishing our rainforests as nurturing the planet is a cause that is very dear to us.
Sustainability
plant a tree
Neuclo has always been a project rooted in our passion for design and innovation. It's not about reinventing the wheel, but about creating for its own sake, and making sustainable versions of the products we want to own and use.

Sarah Davis, Chief Brand Officer (CBO)

London, United Kingdom
Design, Quality, Culture- These mindsets of creativity and attention to detail have allowed us to find success in unconventional ways, and to pioneer our own path as we grow into a sustainable brand.

Nicole Ballard, Senior Product Designer (SPD)

Manchester, United Kingdom
Our story began in a small studio in the city of Leicester, United Kingdom. With only one desk and next to no free time, our brand was born.

Amy McKinley, Brand Social Strategist (BSS)

Los Angeles, CA
SUSTAINABLE DESIGN
Not ordinary products
Our products bring together the finest eco-friendly materials and stunning design to create something very special. We believe in quality, care, and creating unique products that everyone can afford.
learn more